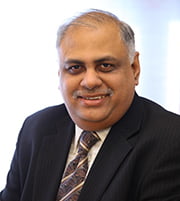 Sankara Narayanan K
Sankara is a Business Leader with in-depth and hands-on experience for over three decades in diverse industries viz manufacturing, telecommunications, internet services and leading innovations to market. Having worked extensively in different parts of India, China and Africa Sankara brings with him a multicultural work experience across diverse markets.
In his thirty plus years of extremely successful corporate career Sankara has handled variety of roles involving finance, business operations, P&L management, turning around struggling operations, Leading Innovation, Change Management, Heading Transformation Programs, Mergers & Acquisitions, launching green field projects and putting up large technology infrastructure etc.
Sankara is a Chartered Accountant from India, MBA from University of Manchester, UK and an Associate alumnus of Graduate School of Business at Stanford University, California, USA.
He has worked in world class organizations like Ranbaxy Laboratories, Hutchison Telecom, Vodafone, Aircel and Bharat Matrimony.com at CFO level positions for over 20 years.He is very passionate about developing people and currently engaged in coaching and mentoring young founders of startups in addition to active angel investing across dozen odd startups.